Hoe onderhoud ik mijn snowboard en ski materiaal?
Een goed onderhouden snowboard kan lang meegaan. Geef je board een aantal keer per jaar wat liefde en ze zal je erg dankbaar zijn. Met een aantal vereiste items kan je dit thuis doen, en neemt het slechts wat tijd in beslag. Mocht je geen tijd of zin hebben om het zelf te doen? Wij bieden ook een onderhoud service aan voor snowboards en ski's!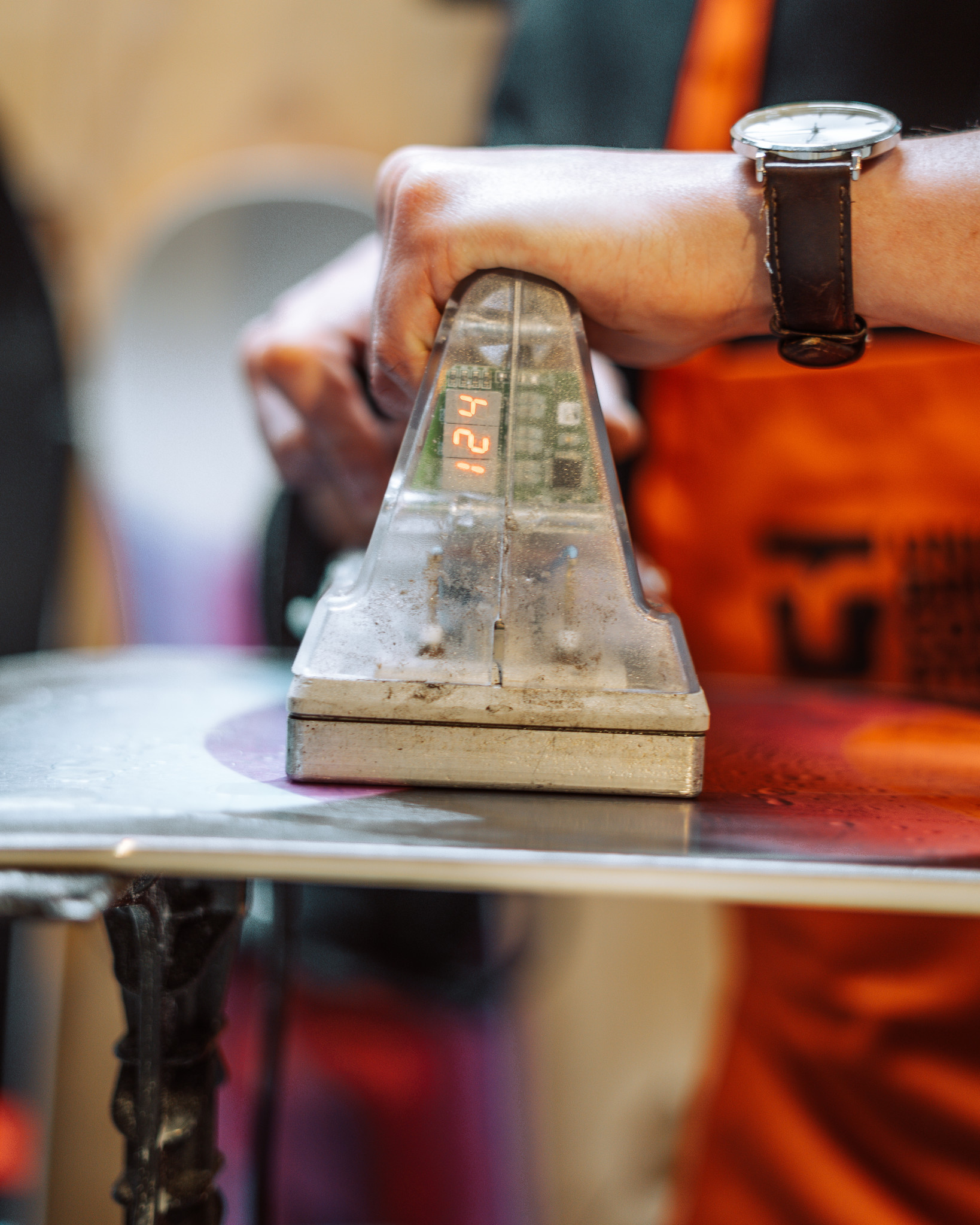 Wanneer is het nodig om te onderhouden?
Over tijd kan de base van je snowboard uitdrogen, dit is te zien aan de wit uitgeslagen plekken aan de onderkant. Dit komt doordat je snowboard over sneeuw glijdt. De frictie zorgt voor uitdroging. Ijs en papperige sneeuw versnellen dit. De plekken zijn vaak te vinden langs de staalkanten, gezien je hier het meeste op rijdt. Wanneer je deze plekken bij jouw snowboard ziet, is het tijd om te waxen!
Wat heb ik nodig voor materiaal?
Voor het onderhouden van je snowboard heb je een aantal spullen nodig:
- Wax
- Kanten slijper
- Schraper
- Waxijzer
- Borstel, Paardenhaar
- Borstel, Nylon
- 1 Espresso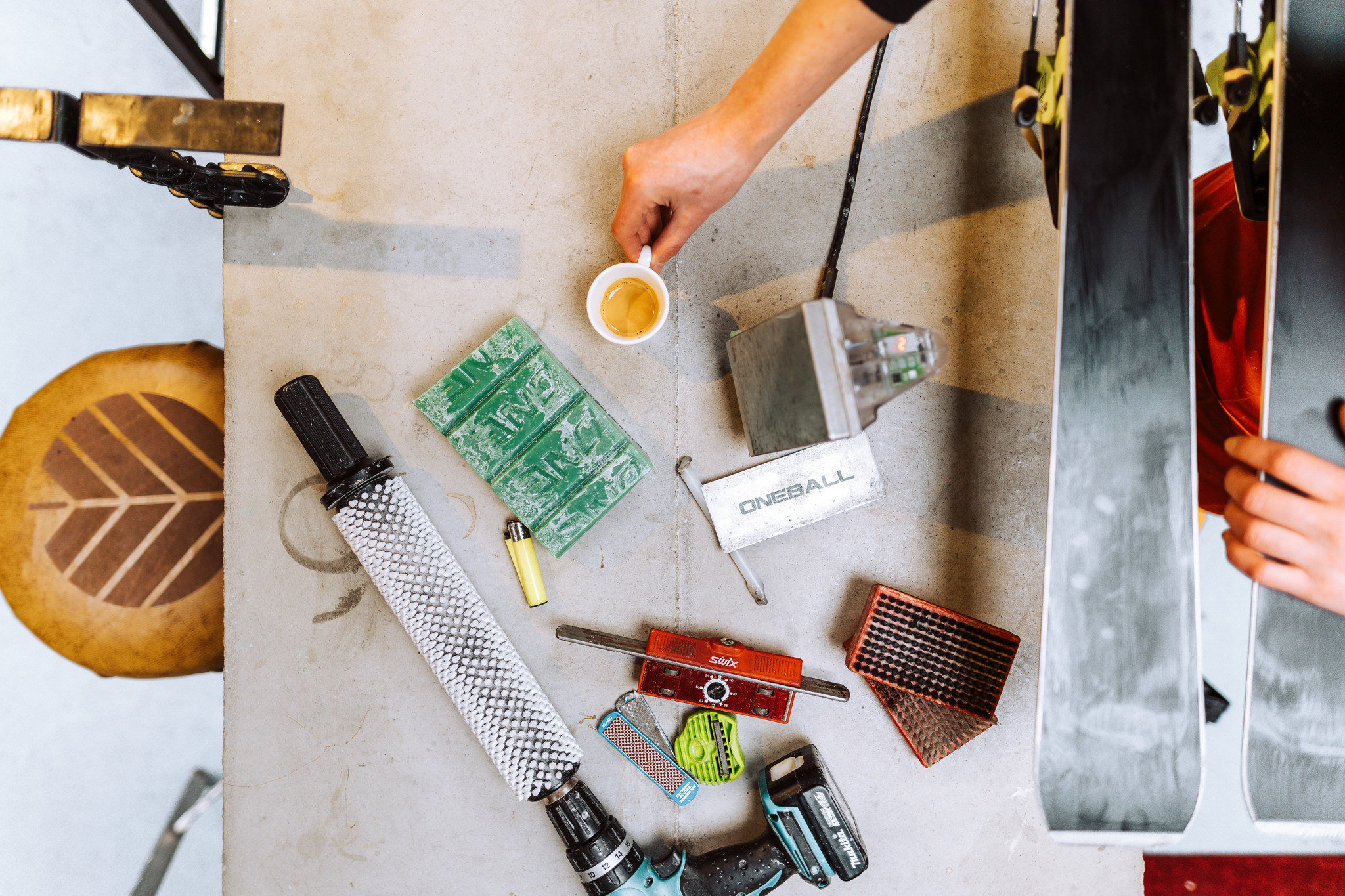 Deze items zijn beschikbaar bij ons in de winkel en online, klik hier.
Hoe werkt dat dan?
Als eerste slijp je, je snowboard. Je doet dit door het snowboard op de topsheet neer te leggen (inserts naar beneden). Je zet de slijper op de kopse kant en haalt deze van nose tot tail heen en weer. Herhaal dit een aantal keer. Als test moet je, je nagel kunnen schaven aan je staalkant. 
Na het slapen begin je met waxen. Je ondergaat een aantal stappen bij het waxen van je snowboard, die wij hieronder zullen uitschrijven en toelichten:
Stap 1:
Pak de borstel met paardenhaar en borstel in de lengte van je snowboard. Je mag wat druk uitoefenen tijdens het borstelen. Hiermee verwijder je het vuil van de base dat tijdens het snowboarden hier op is gekomen, denk hierbij aan: Stenen, rails, modder, gras, diesel (pistenbully). Hoe schoner de base, hoe sneller de base.
Stap 2:
Stop de waxijzer in het stopcontact en stel deze in op een temperatuur tussen de 120 en 130 graden celcius. Voor onze one ball jay wax is 120 graden aan te raden.
Stap 3:
Houd het waxijzer boven het board. Kantel het waxijzer licht naar voren, zodat wanneer je het waxblok tegen het ijzer aanhoud, het gemakkelijker er vanaf druppelt. Druppel vervolgens de wax over het board, zorgt dat er om de paar paar centimeter wat druppels vallen. 
Stap 4: 
Verspreid de gedruppelde wax door in draaiende bewegingen het te verhitten. Wanneer alles verspreid is, kan je in lange, langzame halen in de lengte de wax in laten trekken. Houd het waxijzer nooit helemaal stil! Hiermee kan je de base van je board verbranden. Blijven bewegen dus. Wanneer de topsheet lauw aanvoelt, is de wax goed ingetrokken.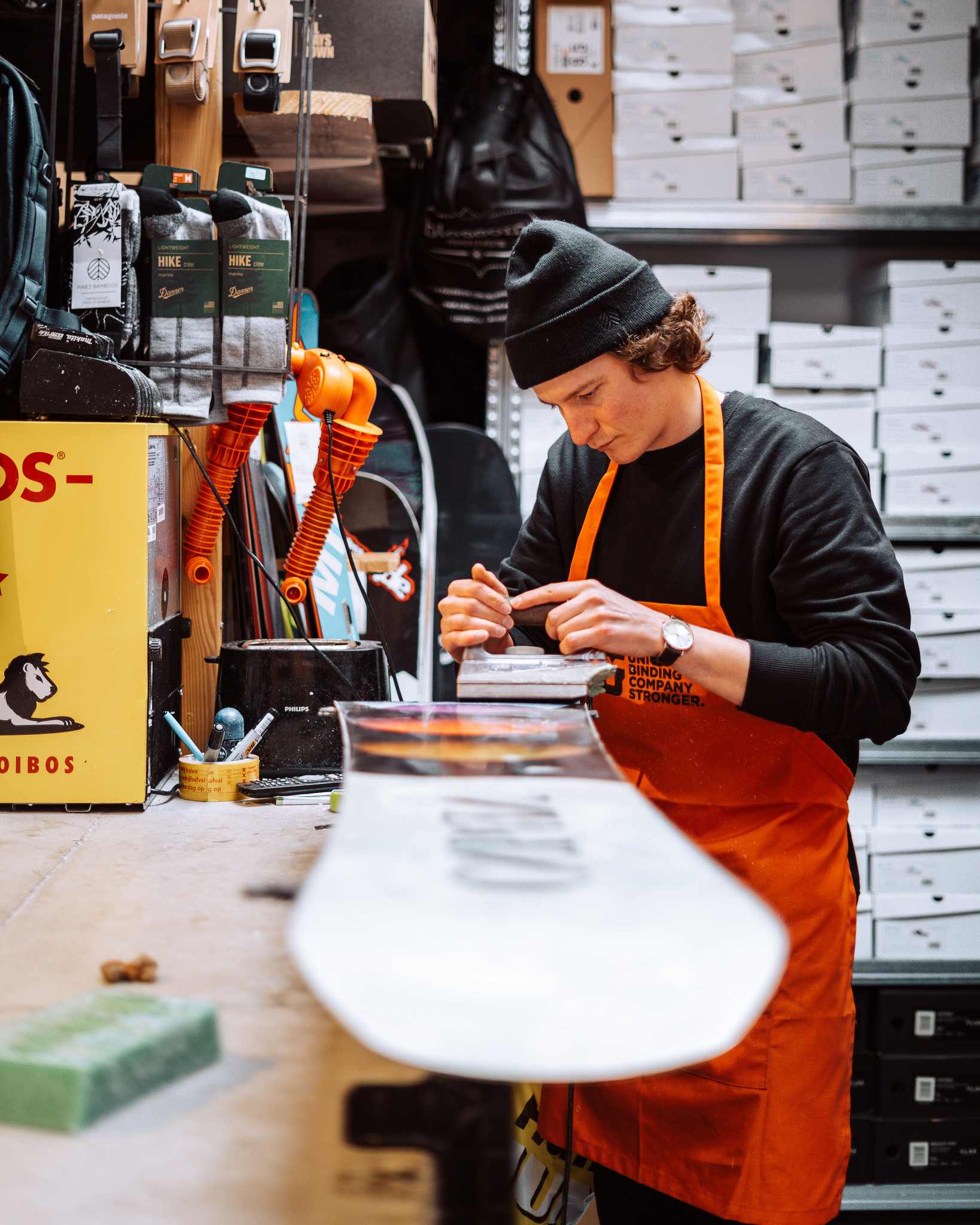 Stap 5:
Laat het board afkoelen. De wax moet intrekken wanneer het warm is. De overige wax blijft dan op de base liggen. 
Stap 6:
Krab het board met de schraper volledig af door in de lengte lange halen te maken. Kantel de schraper en zet aardig wat druk. In principe mag er geen overig wax op de plank blijven liggen. Hij mag helemaal kaal. 
Stap 7:
Pak de nylon borstel en borstel in de lengte weer de base. Dit zorgt er voor dat je de base polijst en zo de sneeuw nog sneller van je base af glijdt.
Stap 8:
De bergen zo snel mogelijk bezoeken!
Wax service bij Behind The Pines. 
Wij bieden bij Behind The Pines ook onderhoudsbeurten aan. Waarbij wij op dezelfde manier jouw board of ski's onder handen nemen. Klik hier voor meer informatie.